My first thought was not that someone had deliberately sown tacks on the bike lane.
It was a Saturday morning a couple of weeks ago. The air was pleasant. We were pedalling down 102 Ave to meet friends from Holland for brunch. A metallic sound, a kind of clank, from the back of Shelagh's bike made her pull over for a quick inspection of her machine.  Not looking for tacks, we didn't at first find two of them embedded in her back tire. The spokes were good, the chain guard was good, maybe a rock had kicked up into the fender? We rode the last block to Blue Plate, locked up and forgot about the mystery sound.

While we talked and laughed and reminisced across a table inside, the back tire breathed its last on the sidewalk outside.
"Something's not right," Shelagh said a block into the ride home.
Flat tire. Or, if optional spelling is allowed, a pfffffflatt tire. The p and the extra f's somehow do a better job of capturing the sense of immediate exasperation presented by a tube that has lost an encounter with a nail or a shard of glass or any other piece of foreign material.
"There are two tacks in the tire," I said, not quite believing the words, glimpsing, but not quite facing the implication. Because unlike a nail (escaped from a construction site) or a piece of glass (escaped from windshield or window or beer drinker's grip), tacks do not just appear in the surf of street life. Tacks don't blow off bulletin boards. Like a spike belt, tacks, whether medievally, mischievously or maliciously, are deliberately placed.
Exasperation turned to disbelief. And then to anger after changing out the tube and retracing our path up the 102 Ave bike lane and finding another 42 tacks on the patch where two had found their mark a couple of hours earlier. A tack on a bike lane in the sun gleams like a gold tooth in a sinister smile of a villain on Saturday morning cartoons. We waved down and notified other bicycle riders and nodded as their faces registered the transition from curious to astonished to deflated.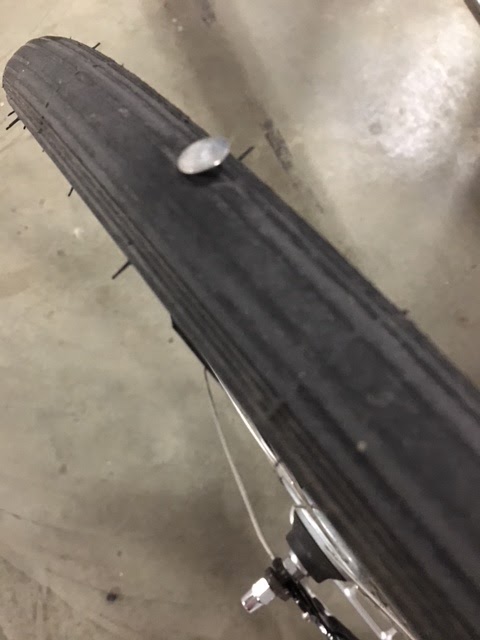 I sent on online complaint to police.  I tweeted a warning.
The responses organized themselves across roughly four categories.
There was wordplay. I appreciate wordplay. No tack attack is made more disturbing by making light of things. Top of class in this category went to Steve from Ohio, who replied: I don't have a baloney skin in the game, but I'd think you could call that stretch the Flats! Runnerup was Aaron from Calgary for this: Ah, yes, that stretch of 102 Ave is known as the Bulletin Board District.
There was some media analysis. Glen from Seattle noted: We had carpet tacks blowing off carpeting trucks all over Seattle for a while. Funny how that happens. Glen's theory was that the media environment allows or even encourages shit like tack attacks to occur. Fundamentally, media outlets need eyeballs for advertisers; eyeballs are attracted by tension and drama and opposition and division; emotion is the real target of attention merchants; media outlets new or old devote a disproportionate amount of resources doing stories that mine the emotions that deliver the eyeballs; bike lanes are, and then are made to be, emotional; so, bike lane stories proliferate; but, emotion outs in tacks on the roads, too, and not just in the intended and relatively salutary views, subscriptions, letters to the editors and clicks.
There was public service. Jared from Edmonton reported: At 10am today, a tourist couple and I removed three handfuls from the same spot (102 Ave between 109 St ad 105 St).
And there were the reactions that mixed anger and regret. Alexandra from Edmonton said:
I  believe that whoever broadcast the tacks on the 102 Ave bike lanes in Edmonton did not intend to puncture the tire of Alexandra's six-year-old son. A boy out for a ride downtown on Saturday with his family was not, I still believe, the pictured target. It's probably closer to the truth to say that the tack attacker had no pictured target at all. As a puny part of the great tradition of broadcasters stretching back to Jesus and Plato, he or she or they simply put their points out there and were content to see where and in whom and how deeply they landed.
I don't know how deeply my tweet landed, either, even though I have access to impressive analytics about impressions and engagements and likes and replies.
We're all in the broadcast business, I guess. Granted, we're not all tack sowers. Thankfully, maybe just one of us is. Whoever that one person is needs to spend as much time making room for difference than attacking the bicycles of six-year-old kids. But, with the tackhead, we do share a method of putting stuff out there without quite knowing where it goes and what it does. That's what's tricky about wanting to get attention, or getting paid to get attention. That's what I tried to tell the StarMetro Edmonton reporter who asked for a comment after my tweet had started doing its rounds.
This piece originally appeared on Glenn's blog. Follow him on Twitter.