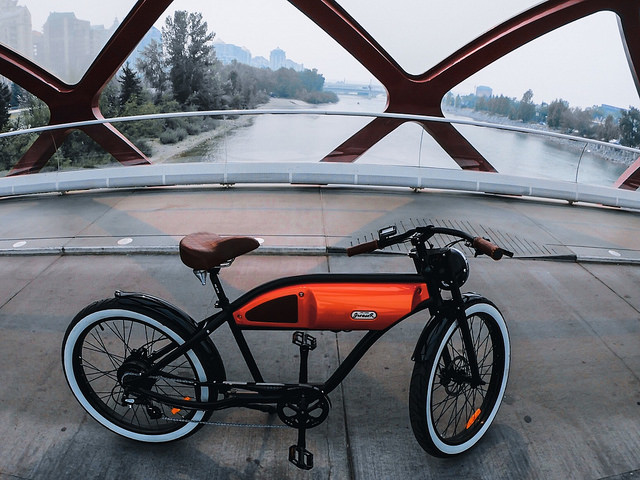 It's not a rare occasion to hear me rant about the impracticality of most bikes I see on the streets these days. Loaded with too much tech, too many gears, and too much equipment built for racing, too many people don't ride bikes fit for an urban lifestyle.
But sometimes, you come across a bike that is unique, beautiful and cool enough to overcome my ranting tendencies. That bike is The Greaser: a beast of an e-bike built in the style of a 1950's cafe racer motorcycle that makes no sense on a lot of levels. It's big, heavy, unruly and completely fun to ride. 
The bike is built by Michael Blast, and it was loaned to me by a retail shop called Toys for Boys, which also sells truckloads of the bikes online. If nothing else, the bike is a head-turner: everywhere I went, people stopped me to talk about the bike.
If you're in the market for a day-to-day urban bike, this probably isn't for you. But if you love the look of this bike, and are in the market for a cruising bike that draws attention, get out that credit card. 
Check out the video for more. 
For more videos like this, please subscribe to our YouTube channel.
Follow Tom Babin on Twitter, Facebook, Instagram or Medium.
You can also follow Shifter on Facebook or Medium.
Tom Babin is the author of Frostbike: The Joy, Pain and Numbness of Winter Cycling. 
---
Also published on Medium.